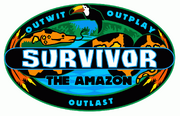 Template:Season Survivor: Amazon is the 1st installment of ddjot98Survivor group game.
Production
Applications started july 26 2013. 22 people apply, but only 18 of those 22 made the cast.
Twists/Changes
The main twist has not benn revelead
Everytime a tribe wins a challenge. they will get  a clue to a hidden immunity idol.
Castaways
Contestant
Original Tribe
Switched Tribe
Merged Tribe
Finish
Votes
Against
Jxhn

Template:S4
Lama
SectionLeader
Pant
Muffinman
Lama
Jbc8

Pant
Dolphinsoccer

Lama
Realchance

Template:S4
Pant
Hippydude126

Lama
Sammy1172

Lama
Thebizareone
Lama
7
Redheat

Lama
Radiohead

Template:S4
Pant
Coolexchangestudent

Template:S4
Lama

Nickbrad97


Pant
Alex321
Pant
Boblol654
Lama
Ginamarie
Pant

Tryandbeatme

Pant

Christie8cute


Pant
Season Summary
Will be posted at end of the season.
Episode Guide
episode 1. You like dragging things out. Dont You. http://ddjot98-survivor-seasons.wikia.com/index.php?title=You%20Like%20dragging%20things%20Out.%20dont%20you%3F&action=edit&useFormat=1
Voting History
will be posted at the end of the season
Trivia
Will be posted at the end of the season
References
External links
Community content is available under
CC-BY-SA
unless otherwise noted.